Central station alarm monitoring provides 365 24/7 property protection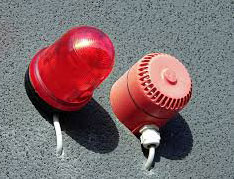 If there is a fire, a break-in or your system reports trouble with your alarm system, our alarm monitoring station is aware of it immediately. Depending on your instructions we will contact the appropriate people to notify them of the alarm. Emergency agencies can be notified and dispatched. Police, fire, ambulance or any other support services are dispatched in accordance with your direction and local code.
Daily signals are sent to our central station to ensure that your system is operating properly and communicating seamlessly.
Colorado Alarm & Fire Protection utilizes CMS central station for fire alarm and security system monitoring. It is UL Listed for monitoring commercial fire protection systems for the following fire alarm signals:
Alarm Activation
Fire Alarm Systems
Fire Pump signals
Sprinkler Flow Alarms
Sprinkler Systems
Suppression and Special Hazard Systems
Suppression System Discharge
Tamper, Supervisory/Trouble
Other Alarm Options
We offer telephone-based monitoring and radio systems for residential, industrial and commercial properties. As land lines become less common we are able to replace your current communicator with AES wireless radio technology that is approved in all fire districts in Colorado.
We are an authorized distributor and installer for AES-Intellinet.
Call today to schedule monitoring conversion or for a free consultation and quote!
---
Fire Sales, Service, Maintenance, and Monitoring
Colorado Alarm & Fire Protection, offers a wide range of services to commercial property management companies, property owners, general contractors, universities, medical facilities, assisted living facilities, and engineering firms.
Fire Suppression
Fire Alarm Systems
Portable Fire Extinguishers
Fire Sprinkler Systems
Kitchen Hood Inspection Services
Backflow Testing
Special Hazard Systems
Central Station Monitoring
Colorado Alarm & Fire Protection is able to provide its clients with expertise from the design stages through installation and maintenance of fire systems.
Services offered include test, inspection and repair of:
Fire sprinkler system
Fire alarm, smoke detection, and smoke control systems
Fire extinguisher
Kitchen hood suppression systems
Backflow prevention devices
Central station communications (radio, digital, cellular)
Special application fire extinguishing systems